Features
1. Korean appearance, exquisite and slim, small size, can be inside lab cabinet.
2. Quick-insert filters make replacement easy and convenient.
3. Design of exposed filter cartridges make consumables replaced easily.
4. Microcomputer automatically control, backlight LED large LCD screen. 5.
5. Visualized operating status, real-time display flushing, water making, water full&lack and maintenance status, with sound and light alarm function.
6. Transparent window, simple&graceful, detachable panel, convenient maintenance.
7.Newest environmentally friendly materials. With a portable test pen.
Application
Preposition unit of ultra pure water system, supply water for biochemical analyzer, electroplating painting, battery charging, chips washing, microbial culture media, chemical&biochemical regent preparation, buffer making, photographic film processing, stability test chamber, meteorological test equipment, hydrogen generator, salt
Process

Filter function
² First stage: PP cotton (PPF filter with a pore size of 5 microns): Preliminary filtration of raw water to remove coarser particles, colloids, suspended solids, etc. in the water.
² Second stage: Granular activated carbon: high-efficiency adsorption of odor, color, organic matter, and heavy metals in water.
² Third stage: Compressed activated carbon: further remove residual chlorine, organic compounds, color, odor, turbidity, etc.
² The fourth stage: RO reverse osmosis membrane: 0.0001 micron pore size, effectively removes organic impurities such as viruses and heavy metals in water.
² The fifth stage: Deionization purification column × 2, remove most of the heavy metals and trace elements in the water, and the water quality meets the national laboratory water first-grade water standard.
Parameter
l Deionized water quality: resistivity 15-18M-cm@25℃ higher than laboratory-level I water standard
l Power supply: 220V 50/60Hz
l Working pressure: 0.1-0.5Mpa
l Rated power: 48W
l Water production: 10L/H (25 ℃)
l Rated daily water: 100 L/day
l Conductivity: ≦ 0.1µs/cm
l Ammonia: ≦ 0.3ug/ml
l Nitrate: ≦ 0.06ugml
l TDS (RO Water): <10ppm
l Outlet 2: RO water, deionized water
l Size: L 40 x W 20 x H 36cm
Standard configuration: Main machine ( with 1 set of consumable filters) and Accessory Package
Product Image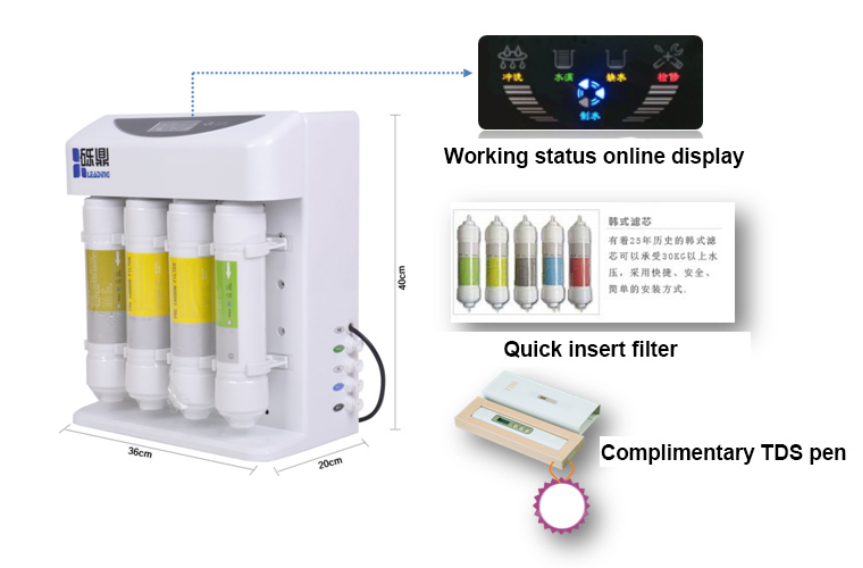 Product consumables list
No

Filter element

Replace cycle

Quantity

Remark

1

11'' PP cotton

About 3-6 month

1 pc




2

11'' activated carbon

About 3-6 month

2 pcs

3

75 GPD RO membrane

About 1-2 years

1 pc

4

11'' Deionization purification column

About 1000 liters

2 pcs